Heavywieghts helps market to deliver smile to Investors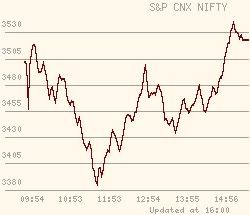 The stock markets finally managed to break the hangover of the selling spree with investors rushing to enter the markets at lower levels. this resulted in pull back rally in the last hours of trading. Another positive development was on cement front, where the cement manufacturers signed truce with the government over price hike issue. Hindalco's announcement of rise in aluminium prices by Rs. 10000 per tonnee helped the metal stocks to bounce back from lower levels. Reliance Industries also staged come back after falling below 1000 levels.
Another pack which helped markets bounce back was the PSU sector with stocks like BHEL and NTPC ended higher.

It is worth noting that the mutul funds are sitting at around $2 Billion of cash and they would have used this fall to enter at lower levels. There is still a large chunck of cash to be absorbed in the markets and that would avoid a biiger fall. The DLF IPO may also help absorbing the excess liquidity in the markets.
Markets are expected to remain volatile on Wednesday with slightly upwards bias. Stocks like Adani Exports, Skumar, Dabur,Hindalco, Kotak Mahindra Bank are expected to remain strong.