FII continue selling spree; Reliance, ONGC save the day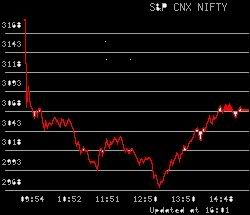 Nobody expected a miracle today and yes the Indian stock markets succumbed to the weakness prevailing in the other Asian markets. Markets opened with a downwards bias and selling intensified during the mid of the session with sensex tanking nearly 675 points intraday from yesterday's close. However, heavyweight Reliance and ONGC helped the markets to recoup some of its losses at the later part of today's session. Selling was witnessed across the breadth of the market. FMCG index suffered the most with 4.85% fall, followed by metals falling 4.31%. BSE Auto index suffered the least with 2% loss.
The markets would continue to take clue from Asian markets until fresh domestic triggers arise. Hardening Interest rates and crude oil prices are also contributing to the uneasiness in the markets.
Investment Guru is of view that the coming session would continue to be volatile for Indian markets with selling coming it at every rise. These are testing times for long term investors , however, investors are advised not to resort to selling under pressure and wait for markets to revive the momentum. Avoid overexposure to mid cap and small cap stocks as they would take much more time to recover as compared to large caps. Wait for clear signals from markets for revival of confidence and remain in cash for some more time to utilize opportunities in fundamentally strong stocks.
Read More!