Investors should play safe at current levels, stocks to watch
I was away from the markets for most part of this week and hence couldn't post on the listing strategy of parsvanath developers and other stocks in action. Will try to cover the back log through this post.
Taking stock of the markets

The markets didn't disappoint me as far as the weekly statistics are concerned. The BSE Sensex added around 142 points to its tail to touch 13845 mark. So we are roughly 165 points away from the 14000 mark and it would not be a surprise if this level is attained in the coming week. The F& O expiry went smoothly with good rollover seen for December. Let's see what is driving the markets and the possible scenario. We will also look at few stocks which may give good returns in short term.
What is driving the markets ?
Economic trends continue to delight
India's economy grew by 9.2 per cent in the last quarter (July-Sep), driven by rising activity in both manufacturing and services. The improvement in the July to September period puts the country on course to match growth levels being achieved by China. Growth in the previous quarter, April to June, was 8.9 per cent. Manufacturing output rose by 11.9 per cent in July to September. The services sector, which accounts for more than half of India's GDP, continued to be buoyant, with trade, hotels and transport services growing by 13.9 per cent. (Times Online)
The positive economic indicators has provided the boost to the already ongoing strong momentum backed by strong Q2 Results. The strong performance has lead to re-rating on outlook on India as an Investment Story.
F&O Expiry was smooth
Futures Open Interest was up by Rs 748 crore. Options Open Interest was up by Rs 260 crore (Rs 2.60 billion). Markets witnessed an rollover at 62 % . Nifty December Futures closed at a 17 points premium to the cash markets on the derivates expiry day.
Technicals are positive
The Markets are trading well above the 50 DMA and 100 DMA which indicates that the bullish momentum is expected to continue in the short term. There can be bouts of profit booking as sensex tries to breach the 14000 mark.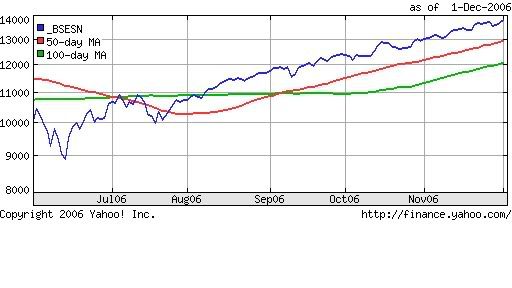 FII & Mutual Fund

FII's bought Rs. 9380 crores of equity which was their highest net investment in last 5 months. Mutual funds are still maintaining a cautious approach and were net sellers to the tune of 24 crores in Nov-06. Investing circles are abuzz with news that FII's may further step up buying this month as allocations will be made for new year 2007. However I feel that FII's may throw up some surprise by deviating from this routine. They have already invested a good amount in the past few months and hence may defer further buying till a correction happens.
What is the probability of Correction ?
Corrections should not be considered a devil and it is quite healthy for markets to correct at regular intervals. This takes away the risk of a market crash. We have not seen any major correction and it would not be a surprise to see correction happening in coming sessions. However, I believe that certain Mid cap stocks would continue to shine due to the news flow and strong growth prospectus.
Conclusion on Market Trends
Well, the markets are expected to rise a bit more due to string momentum and may breach the 140000 mark, however profit booking may take center stage at those levels. So keep fundamentally strong stocks, may it be large or mid caps, in your portfolio.
Stocks in Focus
Gitanjali Gems

The stock is in news following talks of buying a US-based jewellery retail chain, comprising 100 stores in line with its plans to increase retail operation. The company has also received an approval for a special economic zone (SEZ) for the gems and jewellery sector at Panvel. To be spread over 25.23 acres, this will be Gitanjali's second SEZ, after the 200-acre Rajiv Gems Park at Shamshabad, Hyderabad
ERA Constructions
This is another construction stock which has caught investor fancy in past few sessions. The stock was locked at upper circuit on Friday. The stock has scope of further appreciation by another 50 Rs.
Other Stocks that may gain ground are Karnataka Bank, Yes Bank, Shipping Corporation of India and Skumars.