Markets witness huge volatility in intraday trade
The last hour of the trading today proved that bears were in strong hands. The sensex which opened on a positive note and went on to a high of 100 points in the intra day from its previous close finally slipped to the red and closed down 80 pts.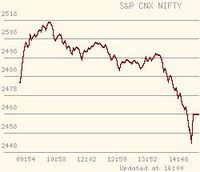 The market breadth turned weak in the latter part of the trading session. 1,621 stocks declined on BSE as compared to 773 stocks that rose. 42 scrips were unchanged. Losers outpaced gainers by a ratio of 2:1.
Ranbaxy emerged as Top loser and the scrip closed at Rs.412 with volumes of around 7 Lac shares. Other pharma scrips followed suit.

In metals , TISCO lost 5% to close at Rs.346. Same was the case with tech stocks. Stalwarts like Reliance and Gujarat Ambuja closed with losses.

Outlook for Wednesday
Tuesday's fall is significant with the perspective of the market sentiments. With markets rising in the morning, investors were expecting a sort of turnaround for the stocks. However, that proved to be elusive in the last hour of the trade.

The market breadth has turned quite negative. The only solace is that the volumes were not so high as compared to Monday.
However, alot depends on how the markets move on Wednesday. The outlook for wednesday is weak and the selling is expected to continue. Investors are advised to stay cautious.