All eyes on Infosys Results, Economic Indicators positive
The Indian stock markets showed mixed trends during the closing week and sensex finally settled to close at 12373. The sensex shed 100 points during the week. Nifty closed the week at 3570.
All eyes are set for the coming week when the Q2 results will start flowing. The trendsetter will however be the results of Tech bell weather "INFOSYS". But this time around, it is not going to impact only the tech sector. Infosys results have the abilities to shake the broader markets which are looking out for triggers for directional move.
Let's have a wrap of what's up for the coming days !

Techincals look positive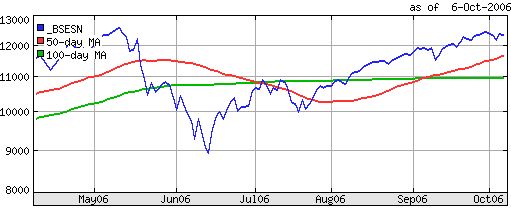 The technicals shows no signs of a bear phase . The sensex is placed well above the 50 and 100 DMA. The current consolidation in the markets would increase the probability of the sensex making a new high.
FII's slow down , Mutual funds sitting on Cash
The FII's investment saw a bit of slowdown during the tale end of the week. The FII's have been net buyers to the tune of Rs. 580 Crore in the month of October. FII's were net buyers of Rs.5424 crore in the month of September.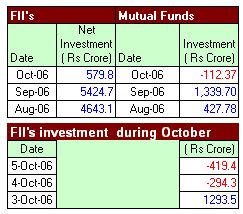 Mutual funds were net sellers to the tune of Rs.112 crore in October till date. They were net buyers of Rs. 1340 crores in September-06. Mutuals funds are still sitting on a pile of cash and may lend support to the markets during correction phase.
The daring Duo is Bullish, talks of 10% growth rate


The daring duo of Indian economy , Prime minister Manmohan singh and Finance Minister P.Chidambaram set a bullish tone the Indian economy's growth prospects addressing a conference on Infrastructure Sector.Mr. singh said that India's economy, Asia's fourth largest, can grow at an annual pace of 10 percent ,tackling poverty,if nearly $320 billion is spent fixing creaky infrastructure. The government wants sustained 8-10 percent growth to significantly cut poverty in a country with 1.1 billion people.
Finance Minister P. Chidambaram said the economy recorded growth in the July-September quarter of over 8 percent from a year earlier, mainly due to strong consumer demand that boosted the services and manufacturing sectors.

To Conclude
Well, the week ahead would be a mix of volatility. The quarterly results would act as a immediate triggers for the markets. The markets have built up a expectation of positive news flow from the Q2 results and India Inc. and any disappointment (chances less likely) may trigger a downside. If everything goes well, the probability of sensex touching new highs in coming days is more.