Technicals turns positive, sensex above 100 & 200 days MA
This week turned out to be a comforting week for Investors with sensex climbing around 270 points to close at 11466 and the rally moving across good midcap and small stocks which were battered during the recent meltdown. Nifty too gained 82 points to close at 3357 levels.

In my last posts I have emphasized the fact that the markets are consolidating and select midcaps would show strength. I have also emphasized that the markets needs to consolidate with higher volumes. Let's see what all happed this week and where are the markets poised for in the coming weeks.



Sensex crosses 100 DMA and 200 DMA



That's quite a good news technically ! 100 and 200 days moving averages display the underlying momentum and the sensex placed above this average show that the undertone of the market is bullish as far as short term sentiments are concerned.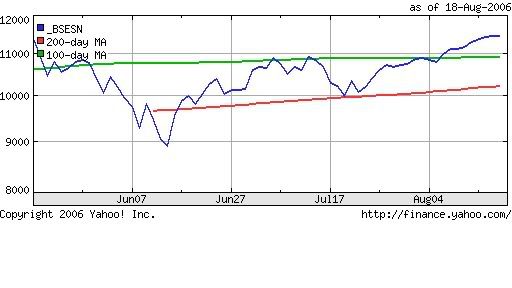 FII's & Mutual funds back to shopping


FII's have been net buyers to the tune of Rs. 3258 Crore in the month of August till date. This week too they remained net buyers of Rs. 1800 Crore. This shows that FII's have been accumulating stocks at low levels. Mutual funds too have been net buyers to the tune of Rs. 309 crores in the month of August. This week they have been net buyers of around Rs. 35 Crores.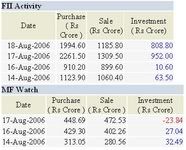 Midcaps too join the bandwagon
A revival of Investor interest was visible in quality madcap stocks that have got battered in the recent meltdown. The trend is expected to continue with good stocks which are undervalued catch the attention of Investors. Large Cap stocks too continued to show strength with reliance and Infosys leading the pack.
The week Ahead
The undertone of sensex for coming is expected to remain bullish. Midcap stories will continue to be in forefront with block deals getting executed in select midcaps. On IPO front GMR is getting listed on 21st August and listing is expected with moderate gains. Markets would continue to take clue from their asian counterparts. Crude prices have cooled off during the last week and expected to stabiles at current levels, so shouldn't be a cause of worry for the moment.
Overall this week should also belong to madcap stocks being in limelight. Investment Guru recommends investors to watch out for following stocks with trading perspective during the week :
GVK Power & Infrastructure
Gitanjali Gems
Mahindra Gesco
Skumar Nationwide
PBA Infrastructure
Cenuturion Bank of Punjab
Punj Lloyd
Read More!